How Sanigone Can Help Theatres & Indoor Venues
It is now more important than ever that all indoor venues introduce enhanced cleaning of all areas and facilities. Areas should be cleaned at regular intervals throughout the day and at the end of each performance. Particular regard should be made to any shared facilities such as audition spaces, rehearsal and backstage areas and communal dining areas.
Sanigone has the perfect products to ensure that all areas are kept clean, safe and germ free. We are proud to have already helped a number of West End shows restart with the use of both Sanigone products to create a clean and safer environment for both the audience and performers.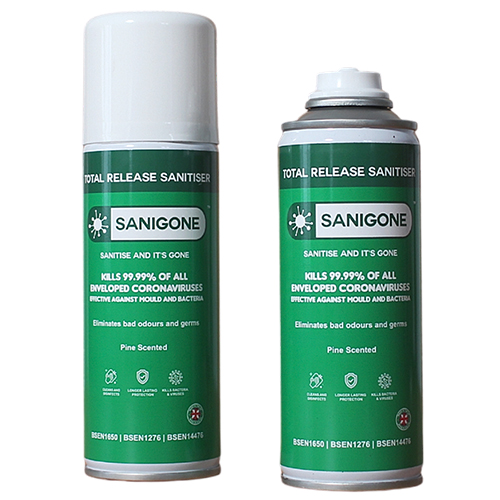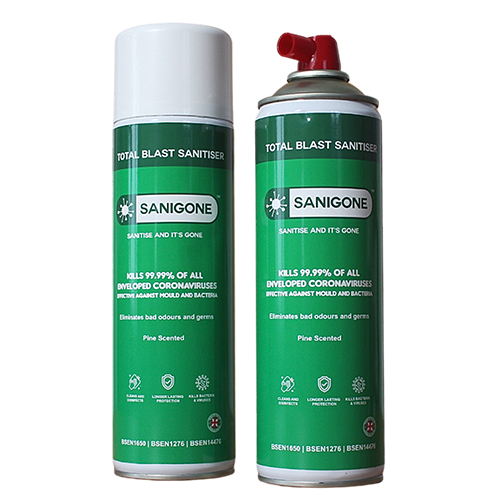 Total Blast Disinfectant Sanitising Spray Can | 500ml
The Total Blast is perfect for smaller areas up to 20m3 and to ensure that high contact points such as door handles, bannisters, lift call buttons, seat arms, doors and personal items such as bags and coats remain virus, bacteria and germ free. Toilet areas and foyers are perfect areas for germs to spread but using Sanigone at regular intervals will ensure these areas remain safe.
It is good practice to ensure that workspaces are kept free of waste and belongings to minimise any transmission of microbes.
It should also be noted that personal items such as instruments should only be handled by the owner as much as possible and cleaned regularly.
All areas should be cleaned in between each performance and either product can be used in this way.
Our stickers are designed to be displayed in all areas to show the staff and public that the spaces they are entering have been sanitised with products backed by three British Standards and which eliminate 99.99% of all enveloped coronaviruses, other viruses, bacteria, germs, mould, fungi and bad odours.