How Sanigone Can Help Hotels & Air BnB's
When you welcome your guests, you not only want your establishment to look spotless but smell clean and fresh too.
Sanigone, whilst sanitising the area completely, leaves a fresh delicate pine scent which eliminates odours at source together with most viruses, germs, bacteria and more including mould.
Being able to totally sanitise each room after a guest has stayed and be confident that the area is totally free of any germs and bad odours means you can relax. The total Release takes just 20 minutes to achieve this. The Total Blast can be used as a top up to the Total Release or to sanitise a smaller room of up to 20m3 and directly onto high contact touchpoints. A short 2 second blast on door handles, bannisters, handrails, furniture etc is enough to immediately banish any contaminants.
As our products can be used in any area of the hotel this gives you complete peace of mind that you have protected staff and customers from hidden germs and potential health risks. They are cost effective, so easy to use and require no special training or PPE equipment.
Sanigone gives you the opportunity to save time and money on multiple cleaning products and cut down on plastic waste.
Backed by three British Standards, you can be sure Sanigone has the right product for you.
Our Products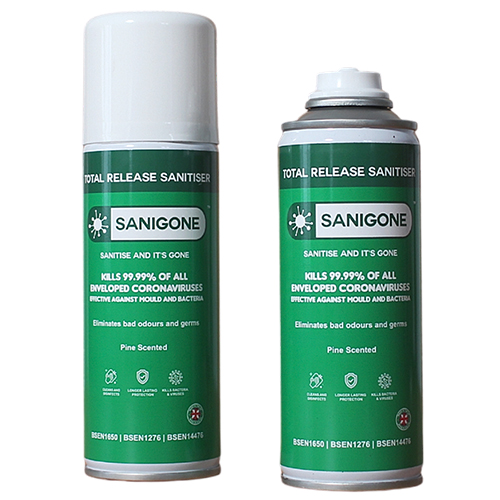 Total Release Room Sanitiser
Our Total Release is perfect for sanitising bedrooms, hallways and receptions giving your customers peace of mind in a sanitised environment. Perfect to be used after a customer has been at your hotel/BnB meaning 99.99% of all germs, bacteria and viruses are killed ready for your next guests.