How Sanigone Can Help Hospitals & Care Homes
Hospitals and care homes by their very nature often care for critically ill and vulnerable people. Having germs, bacteria and viruses around can cause unwanted diseases to spread and have the potential to cause life threatening risks.
Sanigone will eliminate 99.99% of germs, bacteria and viruses. Our products require no PPE or special training and are quick and easy to use. Both The Total Release and The Total Blast are ideal for use in any setting including offices, patients rooms, stairways, hallways, consulting and waiting rooms. They are backed by three British Standards so you can be assured Sanigone does what it says on the can. Stickers provided with each product can be displayed to show the area has been cleaned giving assurance to staff, patients and visitors that the area is free of germs.
Using our products can reduce the need for wipes and sanitising sprays which in turn means less cleaning hours so not only do you save time, but money and plastic waste too.
Our Products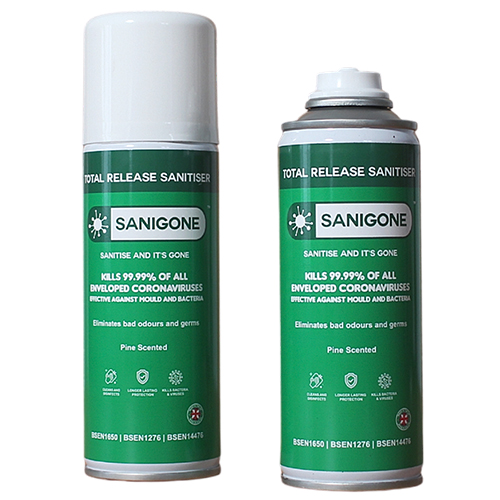 Total Release Room Sanitiser
Our Total Release room sanitiser is perfect for all hospital and care home rooms and offices including communal spaces. Each can sanitises a space of up to 100m³ meaning your patients can rest assured that they are in a totally sanitised environment. This can be achieved in a matter of minutes.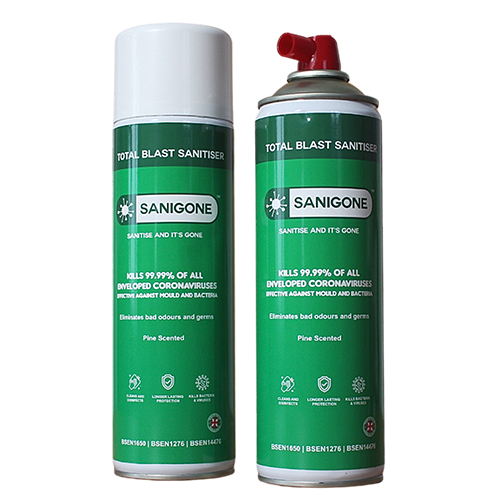 Total Blast Disinfectant Sanitising Spray Can | 500ml
Our Total Blast is great for using as a spray for reaching high touch point and more difficult areas or for smaller rooms. It can be used on a more frequent basis and is perfect for sanitising furniture, banisters, door handles and other high contact areas. Our Total Blast works perfectly with our Total Release.