Sanitisation You Can Trust
Health professionals tell us that sanitising is the key to staying safe from Coronavirus. That is exactly what SANIGONE does.
Our highly effective sanitiser and disinfectant products kill 99.99% of ALL enveloped coronaviruses in an enclosed space and can last for up to 7 days.  
Both of our products, THE TOTAL RELEASE and THE TOTAL BLAST also eliminate yeast, fungi and mould and leave your space smelling clean and fresh.
SANIGONE is certified with three British Standards of testing and authentication:
BS EN 14476, BS EN 1276 and BS EN 1650. Full certification is provided HERE.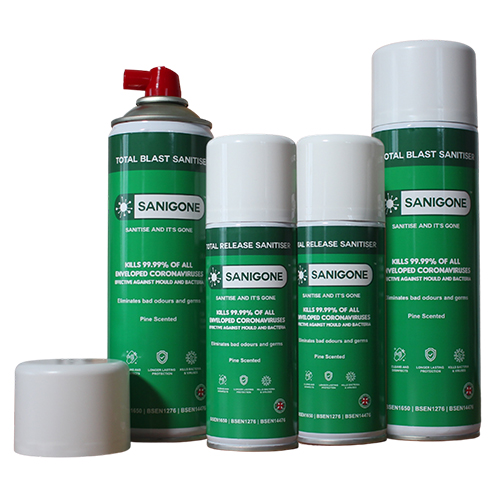 GYMNASIUMS
Protect your members and staff by using Sanigone in all your high traffic areas and items such as weights and machines.
SUITABLE FOR

SCHOOLS
Hundreds of children sitting in and moving between classrooms have the potential to spread the virus creating risks for staff and pupils alike. Using Sanigone significantly reduces this risk and is suitable for use in all areas of the school, college or university.
SUITABLE FOR

CARE HOMES
Our most vulnerable members of society deserve the best protection. Use Sanigone to keep them safe.
SUITABLE FOR

HOMES
Keep those you value the most safe with Sanigone.
SUITABLE FOR

OFFICES
Staff, visitors and customers can be assured that their office has been sanitised against 99.99% of all enveloped coronaviruses.
SUITABLE FOR

HOSPITALS
Used in hospitals, doctor's surgeries, dentists and any other consulting areas significantly reduces the spread of harmful viruses and bacteria keeping patients and staff safe.
SUITABLE FOR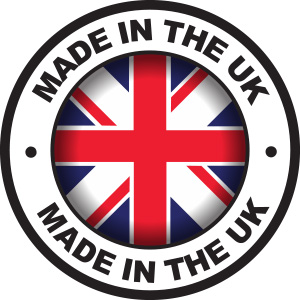 SANIGONE is proud to be supporting a UK manufacturer in these difficult economic times.
SANIGONE aerosol cans are recyclable including the lids so helping to reduce the global problem of plastic waste.
SANIGONE products are reassuringly quick and easy to use. They give immediate peace of mind and are safe to use in all commercial and residential areas. They require no PPE or special training to be able to use them.
SANIGONE is also safe to use in food preparation areas but no food should be left out while they are being used.
Protect your loved ones, staff, visitors, pupils and customers with SANIGONE. The ESSENTIAL product for everyone.
What People Say
Great product with power!! Recently bought a house and wanted to be safe against potential germs and viruses left behind. Sprayed the total blast and the power was great! Made me feel more at ease knowing I only need to do it a few times a day to sanitise the area clean of unwanted germs. Will defo be purchasing more for the future. Thankyou Saingone!
Chris Burgess
February 4, 2021.
We use Sanigone in the home whenever we have trades people in. A quick blast before they arrive and a more thorough blast when they leave to completely sanitise the place.
Simon Christian
February 2, 2021.
I have over 15 years experience in both commercial and end of Tenancy Cleaning, initially I was a tad skeptical of sanigone but now both myself and my clients really do value what the sanigone products do to protect us! Also great customer service!
Carl Woolf
January 29, 2021.
I just wanted to write a review of this company. It seems that everyone is quick to criticise people and businesses when they perceive something is wrong but few (myself included) take the time to give praise when it is deserved. My wife has used their products for some time in her pet grooming parlour in Mill Hill but today I had to order some for use at home as we are unwell. Delivery was supposed to be on Tuesday but when I sent an email asking if it could be made any sooner as we were unwell, the Managing Director himself called me and offered to drive some over to my house this evening. He arrived within the hour as promised. It is so nice to be seen as not just "another customer" on an online order form but as a real life person behind the order form. My wife has always thought the products were fantastic for her business needs and the customer service has always been great but this takes it to another level. Please support this company - we need more local businesses and business people like these.
Anthony Kingsley
January 29, 2021.
We use Sanigone in our children's soft play centre to make sure that the premises are not just covid secure, but also protected against other bugs and germs that children like to carry around with them. Sanigone is very easy to use and gives us the peace of mind that our premises are safe for our guests
Dawn Shields
January 27, 2021.
Mainstream Cleaning has been using Sanigone products for quite some time now and we are very happy with their products. We supply their products to our clients and we've had great feedback from them! They feel happy that they feel they can work in a safe and sanitised environment. The customer service from Sanigone is second to none, and they are extremely helpful!
Michelle Burke
January 27, 2021.
Great peace of mind knowing just a spray keeps me safe. Easy to use, no horrible smell afterwards, total satisfaction. Good quick service too.
Ian Ellis
December 22, 2020.
OMG thank you Sanigone for your Total Blast Sanitiser. This has given our staff the assurance of working in a safe and protected environment.
Clive Blanks
December 3, 2020.
Great Product Great service !!! We are visiting numerous homes & work places on a daily basis where we carry out installation works & this product gives us the confidence to work in a safe environment making sure the area we are working in is free from any lingering viruses, leaving my team & I feeling safe & confident.
Health & Safety Advisory Service
December 1, 2020.
Exceptional service. When FedEx failed to pick up my order from Sanigone, the MD got in his car and drove it all the way to Nottingham late in the evening. How many other companies would do this? He knew how important it was that my order arrived and said that it is how you put things right that is important. How very true. Sanigone 7 Day Room Sanitiser and Total Blast are the best products on the market for peace of mind that large or small areas are free from viruses. So easy and quick to use instead of having to wipe down all the time. Thank you Barrie. We could all learn from you how to treat customers.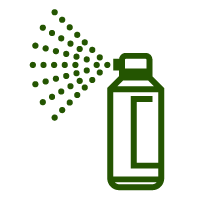 FINE MIST EMITTED
Whether you are using THE TOTAL RELEASE or THE TOTAL BLAST the propellant inside each aerosol emits a fine mist of the powerful sanitising ingredients which quickly provide full coverage to all surfaces in even the most hard to reach places. The mist protects all surfaces including door handles and light switches and reduced the risk of contamination in high traffic areas.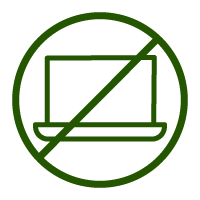 ELECTRICAL DEVICES
When using THE TOTAL RELEASE no electrical equipment or lights should be switched on or off during the process. If any electrical equipment or lights are turned on before starting the process ensure they are not touched until after the aerosol has completely emptied and the room has been left for at least 20 minutes.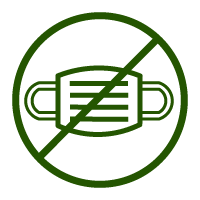 NO PROTECTIVE EQUIPMENT REQUIRED
SANIGONE is portable and requires no special training or protective equipment for use.
SANIGONE MUST be used in accordance with the manufacturer's instructions. As well as sanitising your spaces, SANIGONE leaves the room delicately scented with pine. It evaporates in minutes killing bacteria, viruses and germs as it dries leaving no sticky residue or staining.

Eliminates 99.99% of ALL enveloped coronaviruses

British Standard Certificates:
BS EN 14476, BS EN 1276, BS EN 1650

Effective against mould & bacteria

Eliminates bad odours & germs
Targets difficult to reach areas that otherwise might be missed

Can be used in any commercial or residential space

As the health, safety and security of everyone is paramount, we provide stickers for you to display on your premises to give peace of mind that the area has been treated against 99.99% of ALL coronaviruses

We pride ourselves on excellent customer service